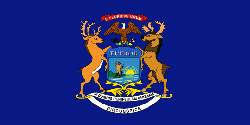 Michigan
"Wolverine State"
Motto

Si quaeris peninsulam amoenam circumspice (If you seek a pleasant peninsula, look around you)

Capitol

Name Origin

From Indian word "Michigana" meaning "great or large lake"

Statehood Date

Jan. 26, 1837 (26th)
Cities in Michigan
NOTE: Not all cities are displayed. Please narrow your selection by using the search above.
Official Symbols
A state's official symbols represent the composition and culture of the land and people who live and have lived here. Below are the symbols of Michigan along with the year they became official.
| | |
| --- | --- |
| Flower | Apple Blossom (1897) |
| Bird | Robin (1931) |
| Mammal | White-Tailed Deer (1997) |
| Fishes | Trout (1965), Brook Trout (1988) |
| Gem | Isle Royal Greenstone (Chlorastrolite) (1972) |
| Stone | Petoskey Stone (1965) |
| Tree | White Pine (1955) |
| Soil | Kalkaska Soil Series (1990) |
| Reptile | Painted Turtle (1995) |
| Flag | "Blue Charged With The Arms Of The State" (1911) |
| Wildflower | Dwarf Lake Iris (1998) |
Demographics
Population Density

175.0 people per square mile
Geography and Weather
Land Area

56,804 sq mi. (147,122 sq km)

Lowest Elevation

0 ft (0 m)

Average Elevation

900 ft (274.32 m)

Highest Temperature Recorded

112°F (44°C) on July 13, 1936

Lowest Temperature Recorded

–51°F (–46°C) on February 9, 1934